Name:
Samuel "Sam" Fisher
Age:
30's.
Appearance:
Sam is 5'10" tall at 170 lbs. He has grey hair with a few traces of grey and has green eyes.
He normally wears a green non-camo shirt that allows easy "breathing".
When on a mission or in battle, he will wear a form-fitting armored combat suit (FFACS) that is black and grey in color. It has a tri-sensor goggle system mounted on the left eye.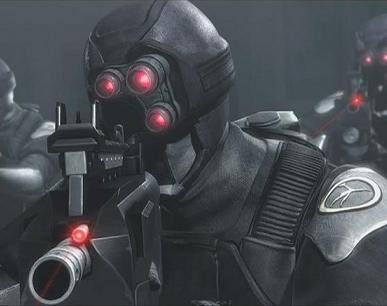 Background:Personality:
As a ex-covert agent of the U.S. government, Fisher approaches his target objectives in a gruff, no-nonsense manner, but maintains a light-hearted relationship with his colleagues and even with his momentary hostages (even if he is going to kill them). Fisher has little patience for government bureaucracy or political maneuvering. A political realist, Fisher maintains a cynical, jaded and sarcastic sense of humor about the covert, illegal, and often morally ambiguous nature of his work. In Operation "Pandora", Director Irving informs Fisher that "Nobody knows whether he's a U.S. Agent or a terrorist" Fisher replies that "Those things aren't mutually exclusive." At the same time, he is highly loyal and a staunch believer in the ideals his work ultimately protects. He is quickly angered by the casual slaughter of civilians or unarmed military personnel by his enemies. However it must be said that Sam is not a sadistic individual as he has said: "... I take the lives of a few to protect the lives of many. I commit acts of war to preserve the greater peace. I take no joy in killing, but make no mistake; I'll do what needs to be done. Because it's my job. It's my duty. My name is Sam Fisher, and I am a Splinter Cell." Though the last part of this sentence, where Sam refers to himself as a 'Splinter Cell', is regarded as a symptom of multiple personality syndrome, as the term "Splinter Cell" refers to an elite covert unit consisting of lone field operatives who are supported by an entire team of technical specialists as they work together to accomplish their goals.Fisher's dark sense of humor during missions is his way of dealing with the tension that he feels during a stealth operation. Fisher is an extremely competent and experienced soldier and operative, he is also keenly aware of his own limitations and mortality, and thus he uses humor to help keep himself calm in the frequent dangerous situations he is often ordered into. Fisher attempts to uphold what he believes is "right".
An instance is when Fisher is ordered to not tamper with the corpse of tortured computer engineer Bruce Morgenholt, whose body could not be extracted. He chose to cut down the ropes binding the corpse, causing Director Irving to admonish Fisher who replies by saying, "Just because he's dead doesn't mean I have to leave him here hanging like a piece of meat ... You can spare thirty seconds for some simple dignity."
Likes:Dislikes:Fear:Powers:
As an "Artificial Quincy", he is able to manipulate reitsu and reishi. Also, due to his government training, he has a very high accuracy and durability. He is also extremely resiliant to interrogation and torture. He is fluent in over 6 languages and is also able to do many things a normal human cannot do, i.e. climb up pipes, on walls, etc.
SP-100: His main weapon. It is a modified Mark 23 .45 Semi-Automatic Pistol. It fires highly-charged "bullets" of reishi. He can fired 100 shots before he has to recharge. The bullets' powers are capable or passing a Bala with the power of a cero. This is due to its compressed form
SAR-100K His secondary ranged weapon. It is a completely unique weapon. It uses the same type of energy system as the SP-100. The difference is that it is now two separate weapons in one. The top and smaller barrel is used to fire Reishi Bullets at the speed of a Quincy arrow. The bottom, larger barrel is used to fire Reishi Bursts with the power of a cero.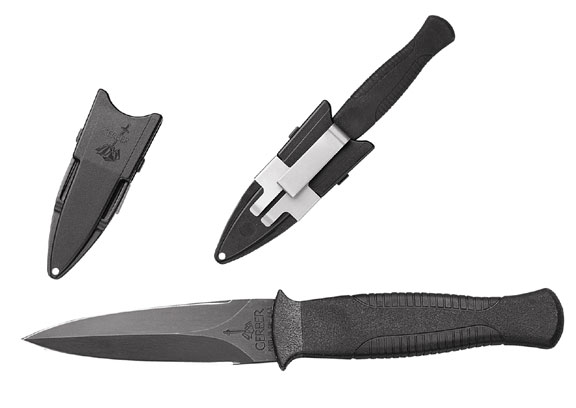 SK-000: A prototype mass-produced Seele Schneider. It is used in two ways. The first way is a reitsu blade that eminates from the actual blade. It is two-and-a-half feet long and can cut through almost anything. The second way is a short, vibrating blade. When in this form, it can cut through just about anything, more than the sword can.
Splinter Step: His form of a shunpo, it is used to move from room to room at breakneck speed. While not the distance of a shunpo, it is almost twice the speed of a normal one.
Strengths:
Military Training, Reitsu Infusion, Excellent Shot
Weakness:
He's getting old, he is a prototype, he can't escape well.