Sapphire Yuudai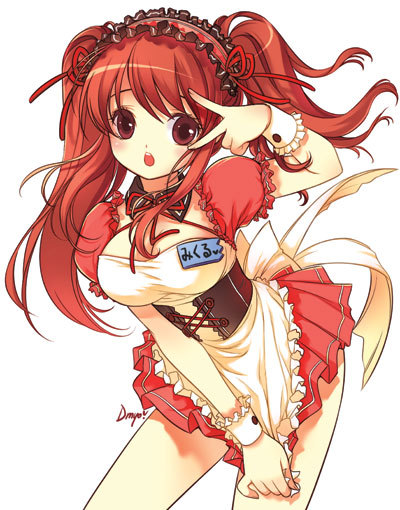 _________________________
_______________________________
________________________
[color=green]
Morning Miss. Sapphire...You've overslept once again.
[/green]
The soft voice of Suizome, Sapphire's spirit called to her as he manifested himself beside her and gently stroked her hair.
________
Suizome-->
_________
Slowly, slowly but surly Sapphire Yuudai, a seventeen year old Vizard, woke up from her deep dreamless sleep.
"What time is it?..."
She finally said after sitting up right, rubbing her eyes to get the sleep out all the while.
It's what humans would call lunch time
He replied with a slight chuckle.
"Oh haha."
Sapphire gave a slight giggle before forcing herself out of bed to get ready for the remainder of the day.
She had finished getting ready and was now downstairs in the kitchen, raiding it to see what food they had. She fixed herslef some toast with a glass of orange juice and headed over to the main living room. The house was offly quiet, she was sure her mother, Kitty was somewhere; as for her father and brother, she guessed that they were out training or something. Sapphire made herself comfortable by the window, sitting on the bit of pillow it had...just staring out at the sky.
The sun was being overtaken by dark clouds, almost as if representing the on going battle of good and evil...Not too long after darkness over shadowed the sun rain started pouring down. As the water struck the house, the trees and everything else it seemed like that battle had just begun. Lightning struck across the sky as if the good were fighting back strongly and thunder roared though the area as if worriors were clashing in their on going stuggle. About 20 mintues passed and the storm finally cleared out, the evil had retreated and the golden rays of good burst though the land and lit up the place with its warmth.
"Well that was interesting to watch..."
Sapphire giggeled to her spirit. She got up and took her dises back to the kitchen and washed them. After she finished with that she desided to head out and see if there was anything out there worth exploring.
Within a few minutes she was out the door and wondering the forest that surrounded their house, the beach wasnt too far from the house so if there was nothing in the forest to do, she'd always go to the beach and just relax or something. Sapphire went further and further into the forest, so far there was nothing much to see...but hopefully she'd find something to do.